[Information] New Option: Optimized Note Acceleration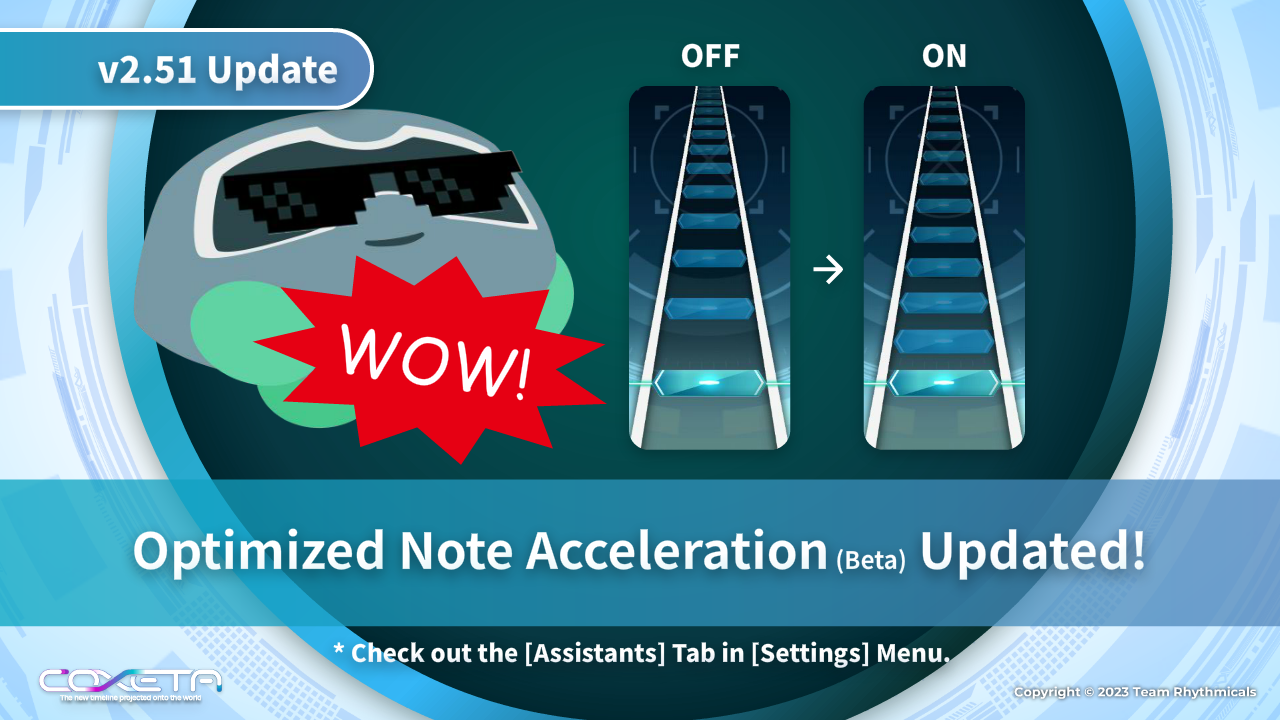 New Option: Optimized Note Acceleration
Supports reading the beats much more easier!
Check out the [Assistants] Tab in [Settings] Menu to activate.
The option will be provided as a Beta from v2.51.
※ Following System Changes Regarding Options
Changes in Grouping Options


[General]: The options from [Sound] is supported here.


Note Speed
Calibrate
Note Skin & Background
Tap Sound

[Detailed]: Some options will move to [Assistants].


Combo Position
Accuracy Position (NEW)
Lane Angle
Hit-Line Position

[Assistants]: A new tab with assistant options.


Show FAST / SLOW
Show Multi-Notes Indicator
Optimized Note Acceleration (NEW)
Double-click to Pause (NEW)

[Graphics]: No changes.


High FPS Mode
Anti-aliasing
Low-spec Graphics
Screen Resolution

[Others]: No changes.


Language
Music Titles in English
SNS, Inquiries, Credits
User Information & Account Management

[Sounds]: The tab will be removed as the options move to [General].

 
Changes in Preset Coverage


The preset will only cover the options in [General], [Detailed] and [Assistants].
When saving or loading the preset, you may check how the settings will be applied.

 
Changes in Activating Hard Mode


The Hard Mode option will be removed from the Settings Menu.
Instead, you may activate it by long-pressing the blue circle behind the Cover Art in the Music Selection.

 
Changes in Pause Button


The pause button will work with a single click.
You may activate the formal style with [Double-click to Pause] in [Assistants] Tab in Settings Menu.